Our only business is Veterinary
US Veterinary Equipment Inc.
Formerly Moduflex Anesthesia Equipment Inc.
The very best in Veterinary Equipment and services

We have changed our name. Same ownership, Same address,same product line, same great service.
Founded in 2003, by Jacques Lachapelle , originally as an Anesthesia Machine sales and service distributor, through hard work, dedication and experience, Our product line has grown to include, Anesthesia machines, Anesthetic vaporizers, Ventilators, Monitors, Dental equipment,IV Pumps, Surgical tables, Autoclaves, Cages, Med gas equipment, Waste gas systems, and Oxygen Generators, as well as replacement parts for most brands of these devices.

We also manufacture custom items, such as shelves, brackets, stands, drawer kits etc. for most anesthesia machines, in our fully equipped machine shop located in San Diego. When the other guys can't find it, or say it does not exist, chances are we either have it, or we can make it for you.
We also specialize in the design, manufacturing and installation of complete waste gas (WAG) systems to meet your needs.
We not only sell these items and their related accessories, but we also install and service this equipment.
We manufacture our own waste gas systems, and can design a system for you.
We are extensively involved at the ground floor with Veterinarians during the construction phase of their new practice, with advice, med gas installation services and designs for most services required by a new or expanding practice.
As we have been servicing all makes of anesthesia machines for the last 13 years, we have had many opportunities to acquire several competitive brands of anesthesia machines, however as a result of our technical experience, and product knowledge
We have opted to sell only one brand. The MODUflex line of Anesthesia machines, manufactured by Dispomed Ltd. has proven to be extremely sturdy, easy to maintain resulting in minimal down time over more than 30 years in the industry.
Moduflex designs take into consideration the specific needs of the Veterinary market . All MODUflex Anesthesia machines are built with the Veterinarian and Veterinary technician in mind. They are not adapted from the human market but built for the animal care market.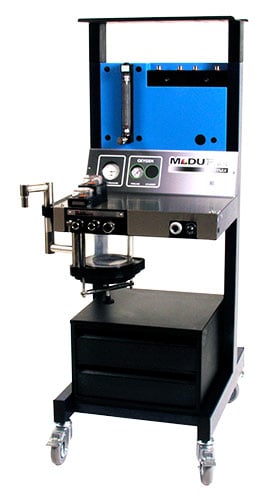 MODUflex anesthesia machines are in service throughout the world, in more than 23 countries, and carry with them the reputation of highly efficient and durable anesthesia machines. Considered the "Rolls Royce" of the industry, yet surprisingly affordable for all clinics.
With more than 19 available models, from Laboratory research units through to our top of the line Optimax model, you are sure to find a model to suit your needs and budget, without compromising for quality or top notch features.
At first glance, Veterinarians and technicians see our machines, at a trade show for example, and assume they are beyond their budget. When inquiring about pricing, they are always pleasantly surprised at how competitively priced these machines are.
Great designs do not have to be expensive.


All our MODUflex Anesthesia machines carry an unparalleled 5 Year warranty, which demonstrates our confidence in our products.

Browse our Webpages for more information or contact us toll free at (877) 416-3172.

We will be pleased to assist you in any way we can, regardless of where you are!