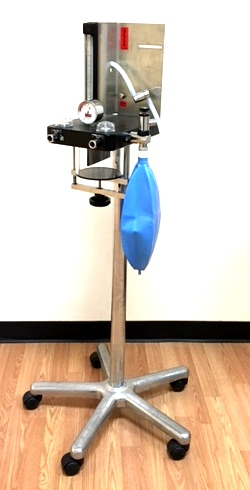 Butler/ Anesco Veterinary Anesthesia Machine
Fully refurbished
Great starter or backup unit for any practice


Includes the following new items

Sodalime canister

O2 hose with DISS fittings 9ft

Evac tubing 9ft

Patient circuit 60" WYE type

Rebreathing bag 2L

Rebreathing bag 3L

Vaporizer male and female connectors 23mm Chrome plated brass

Everything else has been meticulously refurbished to new standards

1 Year warranty
Go to Buy Online for pricing
Moduflex Optima Wall Mount Anesthesia machine 3 Years used, excellent condition and fully refurbished
Rebreathing and small animal applications.
When space and reliability are your most important concerns, the wall-mount Moduflex Optimax is the logical choice.
0.1 to 4 oxygen flowmeter with rotary float
Rotary float and large scale for easy readability.
Recessed flush valve to prevent accidental activation.
Quick-connect fresh gas outlet for easy and secure switches between breathing circuits.
SELECTATECTM compatiblity manifold for easy and quick installation of one or two vaporizers.
New momentary closed feature incorporated into our pop-off valve.
Included with the wall-mount Moduflex Optimax veterinary anesthesia machine
TEC 4 Refurbished Isoflurane Vaporizer

2 liter Rebreathing Bag

3 liter Rebreathing Bag

Fresh gas tube

Evacuation tube (150cm/5')

1 Year warranty

Go to Buy online for pricing